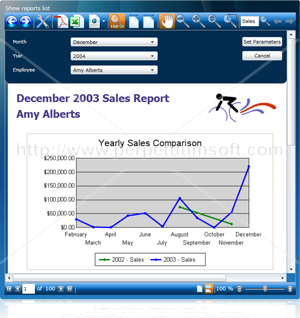 The main obstacle to the spread of Microsoft Silverlight as a platform for line-of-business RIA's is the lack of built-in reporting components. At the same time, not a single corporate application can function without effective reporting system.
Perpetuum Software allows you to combine two powerful Microsoft technologies: Silverlight and Reporting Services, so that you can leverage their advantages in your business intelligence applications.
Silverlight Viewer for Reporting Services provides you the ability to view Reporting Services reports in Silverlight applications. The component is a native Silverlight control and it easily integrates into any Silverlight application. Thus, it is possible to use the entire set of features which are, as a rule, available in the original desktop applications, including dynamic scaling, smooth panning with animation, interactive sorting, search and so on.
Silverlight Viewer can be used in applications, located directly on the html page, as well as the out-of-browser mode.
Delicate setup of viewer appearance with the use of styles and templates allows the inclusion of the component into the design of any application. All aspects of the Silverlight Viewer component behavior can be controlled from the code.
The user will view only the necessary report pages without loading the entire report. This feature provides quick reporting while reducing internet traffic Fonts will be loaded automatically if they are not set on the client side.
The main competitive advantages of the Silverlight Viewer for Reporting Services are:
WYSIWYG report preview in web browsers with support for scaling, scrolling, panning. The reports are displayed in vector graphic. The advantage is that it provides high quality report representation which is impossible to achieve when reports are converted to html;
Out-of-browser mode;
Abilities of the full-functional desktop applications: search, interactive sorting, dynamic zooming, navigation through the reports via hyperlinks, input of the report parameters by the user and so on;
Smooth animation when you manipulate reports, no sudden changes on the display occur when you scroll, zoom in or out or navigate the report;
Support for styles and skins allow the change of any control elements;
Reports export to PDF, Excel, Html, Cvs, Xml, Mhtml, TIFF;
Automatic font loading.
The current product version only supports MS Sql Reporting Services 2005. The support for MS Sql Reporting Services 2008 will be available in the next Silverlight Viewer for Reporting Services release.
Use the functionality of the Silverlight technology for displaying reports from Microsoft SQL Server Reporting Services!